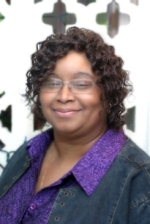 It is our great pleasure and honor today to interview Ayani Meli – BookBuzzr Author Pro subscriber and Author of Love Doesn't Live Here Anymore: But It Will Be Back Sunday! Ayani Meli has created an interesting hangman game Where Did Love Go? using BookBuzzr technology. This game is now the top hangman game played on Freado.
On to the interview …
Tell us a little about your book and yourself.
About Me:
I am a mother of one beautiful little boy, sister, friend, confidante, advocate, Publisher, as well as …an accomplished author, poet, playwright, and digital storyteller; however, focused I was, these were just hobbies. Now, I've found a way to use them to convey the awesomeness of our Magnificent Heavenly Father.
http://www.ayani-meli.info
http://www.revolutionarydisciples.com
About the book:
I have a question for you…Is your house a house of love? Don't wake up one morning and discover that you have missed the mark. In our journey through life, it is important that we face all the challenges storming our way. But in doing so, we must closely examine and re-examine all the areas of our lives to complete this journey to self-discovery. Through humor, this book will make you laugh, through transparency it will make you cry and through boldness it will even make you want to trounce one of the characters. But, in the end you will have learned something significant about yourself.
You've created a fun little hangman word game around the ideas in your book. Can you tell us a little more about this game.
The game is designed to titillate. How do these clues fit together? What picture are they painting of the characters? Future games will delve deeper into the characters. Their relationships, trials, hurts…and even the intimate relations between a husband and wife.
What was your experience like when you created the game?
It was very easy to create the game. I enjoyed it thoroughly. I had so much fun pulling ideas out of the book to incorporate into the game. I plan to create a few more games eventually.
Why did you create this game?
I was looking for marketing strategies that appealed to me. I've done the whole email, email signature, social networking thing…and sadly was bored with the tedium. I wanted something that was interactive and would appeal to a diverse group of people. THIS IS IT!
What do you think about this new book marketing technology from BookBuzzr?
I think its very inventive and will afford authors a new avenue to securing readers for their books, as some are prone to avoid traditional marketing. But this is something that will attract new readers as well as those who may be familiar with your work. And trust me, they will share the games with their friends. BookBuzzr definitely hit this one out of the park!
(Click here to learn more about the benefits of a BookBuzzr Author Pro subscription)