Expert: Carolyn Howard-Johnson
(Excerpted from the Second Edition of The Frugal Book Promoter)

If mobile marketing is new, then QR codes are newer. Or not, depending on how you think about them. They are related to the bar codes we've been seeing for decades, so, when you think of them that way, they're not very new. But when you think of them in terms of reaching people on the go–individually!–they're very new indeed.
"QR codes" is short for quick response codes and that sort of tells the story.
Add the ability to use quick response codes (QRs) to your battery of techie tools. Some people think they look flowery…or like puzzles or computer chips…even Rorschach tests. They are a kind of barcode, but they can take people with smartphones to a Web page or video or even make a call for them—it depends on what the author chooses to put in the code. Use QRs at book fairs, tradeshows, and book signings to let folks with smart phones scan whatever promotional gift or information you want them to have. You can put them anywhere: Your business cards, your ads, in your book, or on your printed tote bag.
The leading maker of codes is Scanbury. Related to them is a program called Scanlife. But here's the important part. You can get free codes made at qrcode.kaywa.com/ and they make it so easy, you won't believe it's a new technology at all.
The example you see here takes you to the Writers' Resources pages on my Web site. This article is an excerpt from the just-released second edition of The Frugal Book Promoter so you can put a code in your book as I did. My new cover designer (Chaz DeSimone)  put a code on the cover of the book (the back cover, lower right corner).
If you write fiction or poetry, don't assume this is a tool meant only for nonfiction writers. Absolutely not! Your code could take readers to a sample chapter of your book or the prologue. It could take your readers to your blog where you write little anecdotes or scenes about your characters.
Fiction or nonfiction it could take your prospective readers to your favorite review. Each book is different. The possibilities are limitless.
~Carolyn Howard-Johnson just updated her multi awar-winning The Frugal Book Promoter to include the many magical book marketing techniques on the Web.
---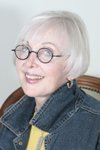 The author is Carolyn Howard-Johnson, author of The Frugal Book Promoter: How to Do What Your Publisher Won't, winner of USA Book News' Best Professional Book, and Book Publicists of Southern California's Irwin Award. Its sister book, The Frugal Editor: Put Your Best Book Forward to Avoid Humiliation and Ensure Success, is also a multi-award winner. Her new booklet of word trippers is Great Little Last-Minute Editing Tips for Writers: The Ultimate Frugal Booklet for Avoiding Word Trippers and Crafting Gatekeeper-Perfect Copy.
Her complimentary newsletter Sharing with Writers is always full of promotion tips, craft, and publishing news. Send an e-mail with "subscribe" in the subject line to HoJoNews@aol.com.