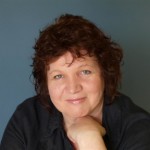 1. Can you tell us a little about yourself and your journey as a writer?
I was born and raised in New Zealand, moving to Western Australia with a single suitcase when I was nineteen years old. Since then, I've packed a lot into my life, working hard in predominantly accounting, IT and management roles, but also spending a year touring the world. I've lived in the central business districts of large cities, suburbia, idyllic seaside locations, rural areas, bushland, and remote desert mining camps.
Mid 2002, I quit my high-pressure management job and moved with my husband to a farm about ninety minutes north-east of Melbourne to write fulltime.
My writing journey is typical of the Australian debut writer: write book, have manuscript assessed and edited, query the three Australian agents accepting unsolicited submissions in your genre, write another book, query the same three Australian agents… rinse and repeat.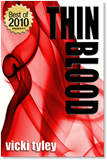 But that's where my story changes. Realizing that the chance of securing Australian representation was next to none, I started querying US/UK agents. More rejections followed. One agent, however, went to the trouble to explain his reasons. When I completed the next novel, Thin Blood, he was the first agent I submitted the manuscript to. Robert Fleck of The Fleck Agency in Coppell, Texas, now represents me.
One small problem: Many US publishers refused to even look at the book. "Americans don't want to read Australian mysteries," he was told. I wasn't about to give up, though. I continued writing and Bob continued pitching.
In October 2009, with nothing to lose, we decided to release Thin Blood electronically on Smashwords. That received such a good response that Suspense Magazine selected me as their featured New Author for April 2010. At the end of April, we made the novel available in Amazon's Kindle store. Taking Bob and I both by surprise, it rocketed up the charts to #1 in Kindle mysteries and peaking at #6 in ALL paid Kindle books. (It was also named an Amazon Best of 2010 Customer Favorite.)
Was it the cover? The blurb? The book itself? I still have no idea what the catalyst was, but I firmly believe luck played a large part, being in the right place at the right time. That and a sprinkling of fairy dust.
Since then, I've released four more novels and I'm working on my next.
2. Who designs your book covers and what kind of a process do you follow when you design your book cover?
I design my own book covers. (In addition to writing, I also work as a freelance web designer. My father was a graphic artist and I was fortunate enough to inherit some of his artistic genes.)
When it comes to my covers, the bulk of my time is spent searching for the right image, something that is not too complex (remembering that it's important that it views well in thumbnail size, as that may be the only image your potential reader sees). With Thin Blood, I opted for a title layout (across and down) that was a bit different to the norm. Because Thin Blood sold so well, I decided to continue this format through each of my novels, in effect branding them each as Vicki Tyley mysteries.
3. As an indie author, how do you divide your time between your writing and promotional activities?
My plan at the moment is to write in the mornings (my most productive writing time) until early afternoon, leaving the afternoon and evening for answering emails and various other writing-related activities. However, as is often the way, something happens that throws that all into disarray.
When a book is released, I devote as much time as necessary on promotional activities, but conversely, there are times when I neglect marketing and only write – those lucky times I can escape the Internet.
4. What's your latest book Bitter Nothings all about?
Bitter Nothings is a psychological whodunnit with a dysfunctional extended Australian family at its core. It's slightly darker than my previous books, but there's no violence or gore and the children's deaths are only touched upon.
Book blurb:
Half her family have been murdered in their beds. Her father is the prime suspect. And things are about to get a whole lot worse…
Graphic designer Dervla Johns wakes one morning to the news that her father, Warren, is missing and her stepmother and step-siblings were found dead in their beds. While the police hunt for Warren, Dervla searches for answers. Could her father really be a killer? Refusing to be warned off by police threats, or intimidated by the reporter who appears to be following her, she delves into her family's past.
But as she uncovers one shocking secret after another, Dervla's world is rocked further by another murder – and she finds herself desperately trying to untangle a web of illicit love and betrayal. Soon, Dervla must face her greatest fear… or suffer the same deadly fate as her stepmother.
5. You are in the happy position where it's not too difficult for you to get reviews for your book. At the time of this interview, your books have anywhere from 25 to 66 reviews. Do you have any tips for a new author looking to get more book reviews?
This is a tough one for me, because I've never asked for reviews. Readers don't owe authors anything, so I'm always thrilled when someone takes the time out from his/her day to write and post a review. If I could, I'd like to shake the reviewer's hand and say a big thank you. (I occasionally get an opportunity to say thank you when a reviewer emails me, which is fantastic. I love connecting with readers and receive far more emails than I do reviews.)
I know some authors leave a message at the end of the book thanking the reader and asking them to please consider leaving a review. I see nothing wrong with that – it's polite and doesn't impose on the reader.
As a reader and reviewer myself, if there is one tip I could give it would be please don't use the Amazon reviewer list to spam reviewers. It won't earn you any brownie points and indeed may put you on the reviewer's blacklist. I used to send a polite reply to review requests I received from people I didn't know but stopped when I started getting snarky responses back. Please don't alienate your potential readers. They have friends who have friends and so on.