This guide shows you how to setup a Facebook fan page (aka a Public Profile). This is a very basic guide and is meant for authors who are just getting started with Facebook marketing. This guide is relevant to you even if you are not a BookBuzzr author.
Note:
1. A Facebook page is different from a Facebook private profile. The best way to see is if you can see tabs like Timeline, About, Friends etc., you are on your private Facebook profile. If you can see things like an 'Admin Panel', 'Likes' etc. you are on a Facebook fan page.
2. A Facebook page is not the same as a group. Facebook Groups are places for small group communication and for people to share their common interests and express their opinion. Your Facebook page, on the other hand is a place for your fans to get together to get updates from you.
So let's get started. Make sure that you're logged in. Also, use the guide below as a starting point. Facebook changes many things often and things may be different in a little while.
1. Go to https://www.facebook.com/pages/create/. This should bring you to the 'Create a Page' page. Then choose 'Artist, Band or Public Figure' and choose the Author option. Follow the on-screen instructions and fill up the form. Then click on 'Get Started'.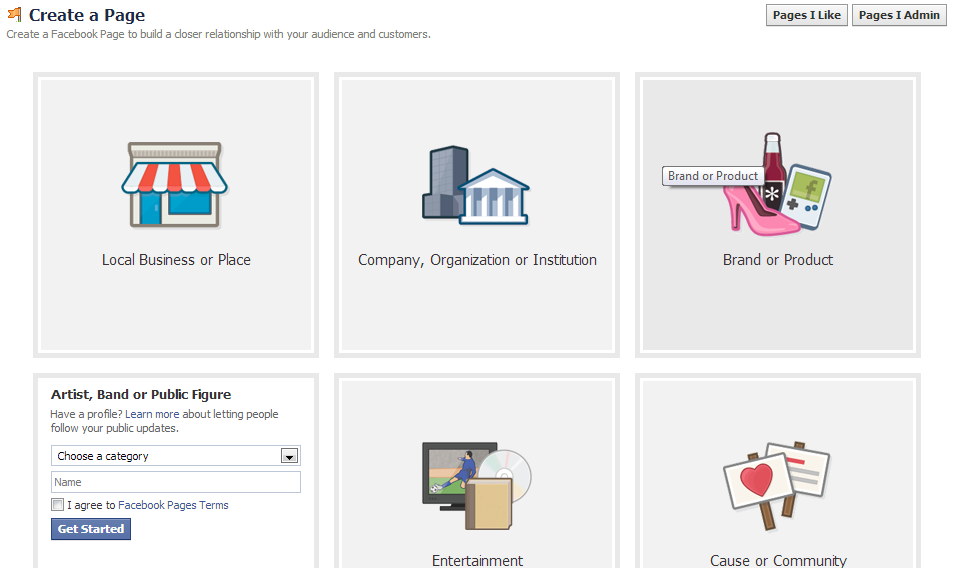 2. This should bring you to the setup screen. Add a description for yourself (copy-paste the description from your Amazon profile) and add in your website, blog or Twitter address. Make sure that your address starts with 'http://'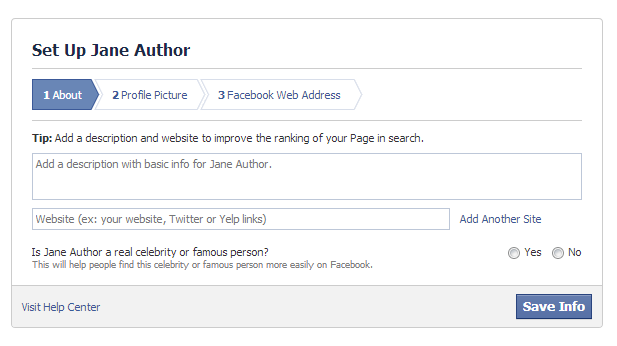 3. Add in a Profile Picture.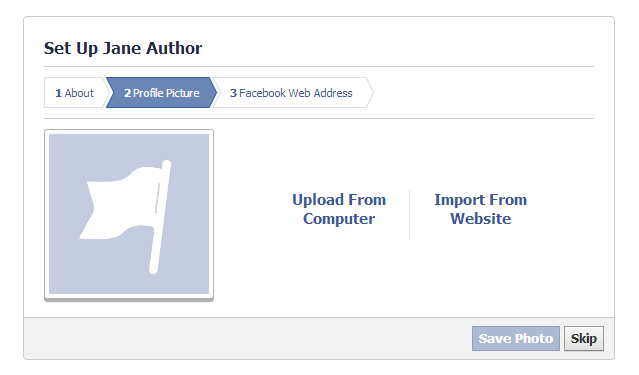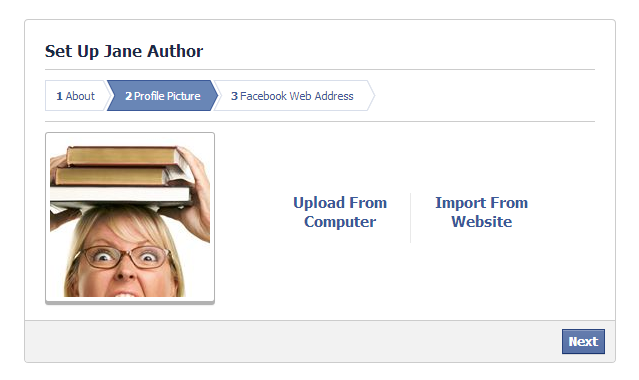 4. Claim a unique URL for your page. This can be your name or some variation thereof. Bear in mind that most common name combinations are already taken. So you can try adding the word 'author' either before or after your name to see if it works (ex: 'janeauthor'). URL's are not case sensitive (i.e. www.facebook.com/JohnMandarin is the same as www.facebook.com/johnmandarin)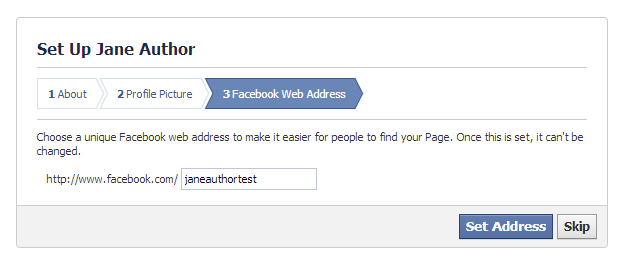 Note: While Facebook says on this page that setting up an address is permanent, we've found that it is possible to change the URL later. You can change it once here.
5. Add a Cover. To do this, scroll down the page until you come to a button that says, 'Add a Cover' (above the 'Like' Button.) This can be a portion of your latest book cover or other image that reflects the theme of your writings. Once you upload the image you can drag the image around to show up in the limited rectangular space provided by Facebook. In case you want to replace your book cover, put your mouse over the image, a 'Change Cover' icon appears. Then click on it to either reposition your image or upload a new image.

Note: If you want to access your newly created Facebook page in the future, simply go to the top menu bar and click on the gear icon and then select your page. You can also select the page from the left menu bar on your Facebook home page when you first login.
Once you've got a Facebook fan page setup you can use various BookBuzzr features such as:
1. The Read My Book on Facebook Widget