Guest Expert: April L. Hamilton
Amazon has been instrumental in the rise of the indie author. Amazon provides do it yourself publishing platforms both for ebooks (Kindle Digital Publishing platform) and print (Createspace), as well as its own imprint for a print and ebook publishing model. But that's just the beginning. Amazon takes things a step further by treating indie authors the same as mainstream-published authors when it comes to marketing and promotional opportunities on the site. One example of this is Amazon Author Central, through which anyone who has authored content offered for sale on Amazon can have his or her own, dedicated Amazon Author page.
An Amazon Author page can be a surprisingly robust plank in your author platform, especially considering that they're offered totally free of charge. Your Amazon Author page can include all of the following:
• Author Photo
• Author Brief Biography
• Author Bibliography (of books/content for sale on Amazon)
• Author Blog Posts
• Dedicated Discussion Board
• Integration With Facebook, Twitter, and Email
Here's my Amazon Author page:
Setting up your Amazon Author page is very, very easy, and it's an opportunity that's open to all authors, mainstream-published and indie alike.
First, you need to have an Amazon account. It doesn't matter whether you have one set up as a consumer or self-publisher, either type of account is fine to use for Author Central sign-up. Just go to the Amazon Author Central page, login, and fill in the provided form to have an Amazon Author Page created for you. On the U.S. site its URL is http://authorcentral.amazon.com, and on the U.K. site the URL is http://authorcentral.amazon.co.uk . This page shows the options and tabs available to you once you're logged in: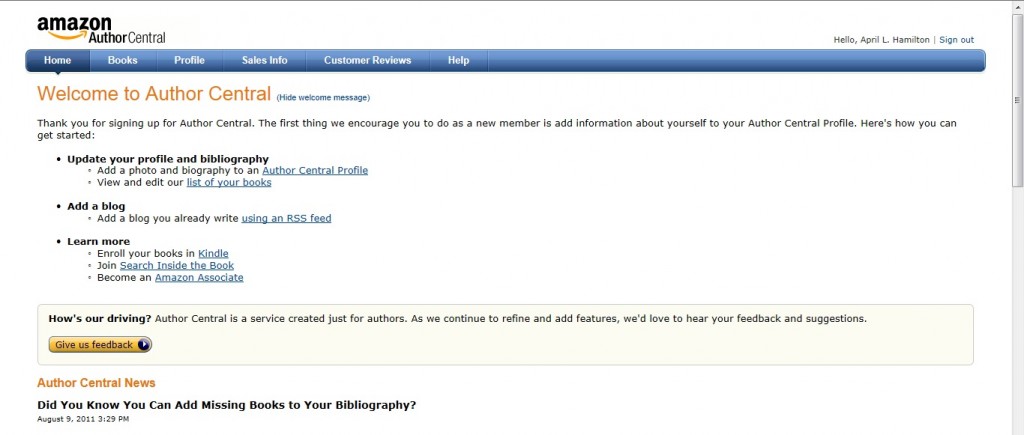 On the Books tab, you can look up and "claim" all of your published material on Amazon, and once the titles you specify have been confirmed, they will show up in the Bibliography section of your Author page.
On the Profile tab, you can add an author photo and brief biography, and should definitely do so. The photo and bio will show both on your Amazon Author page and on each of your books' Amazon product pages, in the About the Author section. The About the Author section will also include a link to your Amazon Author page.
The Sales Info tab is where you can view BookScan sales data and graphs for your books. Of course, you won't find any data there until you've added at least one book to your Bibliography and enough time has passed for sales information tracking to begin, usually 24-48 hours. Up until now authors haven't been provided direct access to BookScan data by their publishers or any other entity, and while BookScan data doesn't provide a count of every book sold—only sales from outlets that choose to report to BookScan, which includes Amazon and most major bookseller retail chains—, it can give you a good idea of how and where your books are selling.
On the Customer Reviews tab, you can see all Amazon reviews of your listed books in a single location.
On the main Author Central home page, there's a link to a page that allows you to link to your blog (e.g., on Blogger, WordPress, WindowsLive, TypePad, etc.). Once your blog is linked, going forward, your three most recent posts there will always be listed and linked in the Most Recent Blog Posts section of your Amazon Author Page. This will help to drive more traffic to your blog, particularly if you blog on topics that would be of interest to readers of your book(s).
In order to set up the blog link, you'll need to provide the URL to your blog's RSS feed. If you don't know what it is, finding out is very easy.
1. Go to your blog, and see if there's an RSS Feed icon on it already. The icon looks like this:

. If the icon is there, click on it to go to your blog's RSS Feed page. Copy that page's URL, and paste it into the RSS Feed field on Amazon Author Central.
2. If your blog doesn't already have an RSS Feed icon on it, that means RSS hasn't been enabled for your blog. Go into your blog dashboard or control panel and enable it, then return to your blog and click on the RSS Feed icon. Again, the page you'll be taken to is the RSS Feed for your blog. Copy that page's URL, and paste it into the RSS Feed field on Amazon Author Central.
The Author Central home page also features helpful articles and how-tos, so be sure to check it out any time you login to change your Amazon Author details or to check your BookScan figures.
Back on the Amazon Author page, the integration with Twitter, Facebook and email is automatic, you don't have to do anything to enable or configure these features. Clicking on the various buttons allows anyone viewing your Amazon Author page to send a Facebook update, tweet or email that will automatically include a link to your Amazon Author page.
The Amazon Author page can be a great platform starting point, or a valuable addition to a pre-existing author platform. Either way, it's a terrific marketing and tracking tool no Amazon-listed author should be without.
---

April L. Hamilton is an author, blogger, Technorati BlogCritic, leading advocate and speaker for the indie author movement, and founder and Editor in Chief of Publetariat.com, the premier online news hub and community for indie authors and small imprints. April is also on the Board of Directors for the Association of Independent Authors. Her most recent book is The Indie Author Guide: Self-Publishing Strategies Anyone Can Use.