You know the deal: a modern day writer is more than a writer.
We publish, format, sell, market, and yes, design our own book covers. Some people will scold me for saying this, but sometimes it's okay for a writer to design their own Book Cover.
There is a gigantic BUT, though.
Only do so if you're 100% sure it's the right decision!
When Is It Right?
If this post does anything, I hope it provides clarity. By the end of this article you should know whether creating your own cover is the right decision, and trust me, for most people it won't be.
I myself am no superstar designer, but I have got plenty of experience using photoshop, creating flyers, and other such things. HOWEVER, I will only create my own Book Cover if I believe I can do it justice. If there's a doubt in my mind, I'll pass it over to a professional.
Therefore if you have zero design experience, have the money to do so, and little time to spare, it shouldn't even be a question. Hire a pro and create the best cover you can!
BUT if money's tight and you know a little about design, creating your own Book Cover might be okay
How I Created My Own Book Cover
I always wanted to create the cover for Beyond Parallel. I had an idea and simplicity was key. I honestly believed I could do it justice. I'm not for one second saying a professional couldn't have done a better job, but I was confident in what I could create. 
Here are my five tips for crafting your own Book Cover:
1: The Right Tools
Your first step is to get the right tools for the job. Creating a cover in Word or Paint is the biggest NO NO you can do. It will look amateurish and people will see straight through it.
I use Photoshop, but it's an expensive programme. Free alternatives like Gimp or Inkscape get good reviews, but I urge you to do your research and demo everything first.
Using the right tools is important. A cover may seem simple, but they rarely are.
2: Think Outside Of The Box
Get creative and have fun with the process. In the beginning allow your mind to wander and consider the most whacky and out-there concepts you can. It's okay, you can rein it in later, but to start with you should let your creative juices flow.
This opens up your mind and gets you excited. In my experience this leads to some cool-ass designs.
3: Bring It Together
Once you've had your creative fun, bring it all together and simplify the process. Consider your Author Brand (what colours do you use, font, style, etc) and most importantly, your book.
You know your story better than anyone. What can you demonstrate on the cover that shares the entire premise in an instant? This is where you may have the upper hand over a professional.
4: Research!
Once you have a concept you're happy with, put it to one side and head online. Read sites like The Book Designer and spend an hour on Amazon studying the covers in your genre.
What stands out?
How do the cover come together?
What role do text and images play?
You may have a good concept at this point, but I'm certain it can be improved by abiding to some rules set by those who know what they're doing.
5: Involve Others
Finally, don't dare release this cover without involving other people. My suggestion is to create at least three versions and email them to your readers, reach out to a few respected books designers, and upload your ideas to a community of some kind.
I did this with the Kindle Boards and they helped me make some much needed improvements. Here's the process the Beyond Parallel cover took.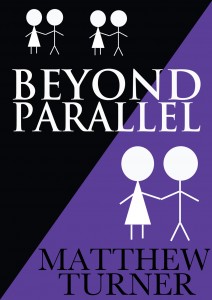 Uploaded to the Kindle Boards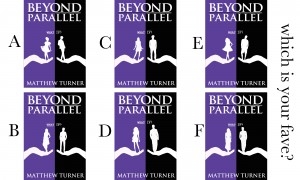 Alterations made after feedback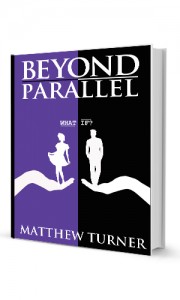 The final design
As you can see, my cover took on some big transformations. Chances are yours will too.
To Conclude – Be Realistic
Like I say, most people SHOULD NOT design their own Book Cover. It's a vital part of your book, and although people say you shouldn't judge a book by it's cover, we do…all of the time.
Your cover is the first impression and your writing deserves the best. Most of the time – me included – that requires a professional.
HOWEVER, some of you will read the above and know a Book Cover is in your grasp. This is fine, but be sure to take it very very seriously – and don't for one second believe you, and you alone, can make it perfect.
Use the right tools…think about it a lot…research a great deal….and seek feedback as often as you can.
Have you created your own Book Cover before?
Have you any tips to add to the list?
Share it below, or simply showcase your favourite Book Cover of all time.
_________________________________________________________________________________________________________


Matthew Turner is a young writer from Yorkshire, England. He writes both Fiction & Non-Fiction, but his latest project is Beyond Parallel, a coming-of-age novel that focusses on two young twenty-somethings.
After years of playing with the idea of writing, he decided to take things seriously in 2010. He took his four year old manuscript and ripped it apart; refining it, editing, and learning until the final copy was ready. That time is now!
As well as writing, Matthew acts as a consultant, speaker, and coach to fellow writers and entrepreneurs. With a passion for storytelling and creating brands with soul, he finds himself working with innovative, 21st-century minds.