Guest Expert: C. Patrick Schulze
In my last article for Bookbuzzr, I discussed the need to identify your niche market, those people who might purchase your book. Today, we're going to discuss one of the major tools you use to market to those potential customers, your blog.
If you're unfamiliar with the idea of a blog, the term comes from the contraction of the phrase, "web log." A blog is simply a way to post whatever you wish to the Internet. Many think of it as a free, simple, easy-to-maintain website and others consider it an open journal.
A blog, as with every part of your marketing, has but one main purpose. It's to raise awareness of you and your books and novels.
However, it also serves a number of other purposes.
Your blog:
helps establish your credibility as an author
allows others to learn of your books and novels
sells and pre-sell your books, 24/7
allows you to have a two-way conversation with your potential customers
serves to promote your existing and upcoming books and novels
allows you to communicate about things that are of importance to you
can put you in touch with other authors for collaborate, not competitive, efforts
can even help you develop the habit of writing on a regular basis
Best of all, with a blog your prospective book buyer volunteers to receive your marketing message. Now that is a powerful marketing concept and, by itself, is reason enough to blog. (How often do you voluntarily ask people to send you commercials?)
Though you can pay a great deal for a blog, there is no need to spend anything beyond the time you invest to establish and maintain your blog. The cost depends on the company with which you set up your blog, and whether or not you hire someone to run it for you. I recommend the free route and with that in mind, here is a list of organizations that can provide a blog for you.
I personally work with WordPress and Blogger and find them easy to use and understand. Of the two, WordPress is my favorite as it affords more options to customize your site.
Most who are aware of blogging yet do not take advantage of the medium indicate the time needed to keep it maintained is a major obstacle. Understood. However, one secret to a successful blog is not daily updating but regular updating.
Regular can mean once a day, once a week or once a month. I personally recommend a minimum of twice a week and no less than once a week. Regardless, the trick is to maintain a schedule and stick to it. Humans are creatures of habit, and if you don't offer your prospects some sort of routine, most potential buyers will gravitate to your competitors' more regular blogs.
One common comment I hear from those who do not blog is, "Nobody wants to know what I had for dinner." Another is "I don't know what to blog about."
These and most other reasons for an author's failure to blog are most often rooted in the their misunderstanding of what blogging is all about. Blogging is about sharing. Sharing what you have a passion for, sharing what you know and sharing what you want your readers to know.
As an author, we are passionate about our books and novels and most often about the subject matter of our books. Further, we want people to know about our books. So guess what you blog about? Yep. Your books and the subject matter of your books.
I'll use my own novels as an example. I write historical fiction set in the time of the American Civil War. Why then? Because I'm passionate about the Civil War. So what do you think is the focus of my blogs? You're right if you said my books and the Civil War. Is this picture becoming clear?
In my last article for BookBuzzr, we spoke about your niche market, right? Well, target your blog toward your niche market and what they want to learn in relation to your subject matter. For example, if you write about psychology, your blog should at least cover that topic and cater to others interested in that same information.
Now, the real secret to blogging?
There is no secret.
Regardless what you hear, nobody has the secret. Like anything, it's a learning process and experience is the best teacher. So jump on in and get your blog set up and running. It's a relatively new, no cost, form of marketing that works. You, as an author, really should the idea take to heart.
Now, what questions do you have about blogging?
Until we speak again, know I wish for you only best-sellers.
~C. Patrick Schulze
---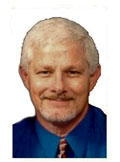 C. Patrick Schulze is a writer and retired self-employed businessperson. He graduated from Old Dominion University in Virginia, USA with a B.A. in, of all things, Political Science.
He is married to his lovely wife Katy and they live in Richmond, VA (USA). He has two daughters, two step-children and six grandchildren. He is an avid photographer and life-long student of the American Civil War.
He has published two novels and has a third on its way. His articles have appeared in Williamsburg Living Magazine and he is a regular contributor at BookBuzzr.com and Publetariat.com.